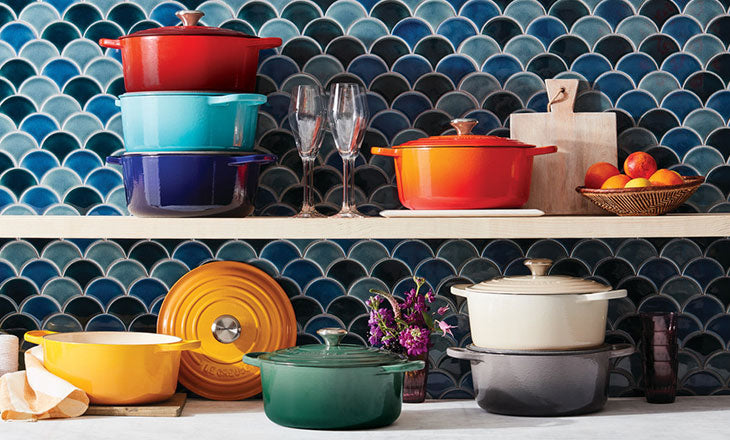 First. Finest. Favorite.
THE STORY OF A TRUE ORIGNIAL
Since 1925, Le Creuset has been renowned as the colorful French companion in kitchens across the globe. Defined by three essential truths, Les Trois Vérités, we're more than just cookware. As the first, finest and favorite, we're honored to share in the meals, memories and traditions made by food lovers around the world.
When Le Creuset was founded in 1925, most cookware was utilitarian in nature — and a dull gray or black in color. Armand Desaegher, a casting specialist, and Octave Aubecq, an enameling expert, saw an opportunity in the sea of gray. The two French artisans perfected a glazing process that coated cast iron in a layer of premium colorful enamel. More functional, more versatile, and decidedly more beautiful, the result was an entirely new way of thinking about cookware — an innovation that would come to define Le Creuset.
That same year, Desaegher and Aubecq opened the first Le Creuset foundry in Fresnoy-le-Grand, a small town in northern France. There they cast and enameled their first cast iron cocotte, or Dutch oven. The careful craftsmanship of their first Dutch oven laid the foundation of quality that would later support Le Creuset's full range of premium cookware and kitchen accessories. But it was their groundbreaking ability to pigment hard-wearing, easy-cleaning enamel glaze that sparked Le Creuset's extraordinary early success.
Appropriately, Le Creuset's first enamel color, "Volcanique" (today's "Flame"), was inspired by the intense, glowing orange hue of molten cast iron in the foundry's cauldron ("creuset" in French). As the molten cast iron cooled and hardened, the color tones deepened, creating an expressive range of color reflected in Le Creuset's signature ombre color gradient. This vibrant orange commanded attention and, coupled with the cookware's exceptional performance, became the hallmark of superior enameled cast iron trusted by cooks everywhere.
A new, modern culinary era was emerging, and Le Creuset—with its focus on functional beauty and passion for heirloom-quality cookware—was an early voice for the joy of preparing and sharing meals.
In the years that followed, Le Creuset continued to focus on premium design and quality. The operation expanded, growing in both product range and global reach. Over the decades, the brand opened sales and manufacturing operations around the world, including a United States subsidiary in 1976.
Today, Le Creuset has grown into a beloved international brand with a product range that spans various categories, including cast iron, stainless steel, stoneware, nonstick, dinnerware and more. Ever committed to innovation and design, our processes have been modernized, but our attention to the finest quality and craftsmanship continues to define us. Le Creuset prizes the rich heritage of hand-craftsmanship, and our original foundry in Fresnoy-le-Grand still produces every piece of our acclaimed cast iron.
Le Creuset revolutionized cooking almost a century ago with the very first colorful cast iron. The empowering joy that our vibrant cookware first brought into kitchens is now shared from generation to generation, in kitchens and around tables all over the world.
THE FIRST IN COLORFUL COOKWARE
With an unrivaled selection of bold, rich colors in a range of finishes and materials, Le Creuset is the leader in highly-durable, chip-resistant enameled cast iron.
Le Creuset is a pioneer in color development and the leader in highly-durable, chip-resistant enameled cast iron. Although others now offer their own interpretations of our signature craft, our visionary enamel expertise spans nearly a century and gives our brand the edge in quality and innovation. From the pure, rich tones of our colors to the fine quality of our distinct gradient and finishes, Le Creuset's leadership in color is unmistakable.
Since the introduction of our signature Flame color in 1925, Le Creuset has been known for high-quality, colorful cookware. Our early artisans transformed the industry by bringing bold, true color to the kitchen. That legacy continues and the brand now offers an unmatched range of vibrant, durable hues and finishes on a spectrum of materials like cast iron, stoneware, silicone, enamel on steel and more.
Le Creuset's palette of classic colors and trend-leading hues demonstrates our unique perspective on color. Our design-forward approach has resulted in the release of some of the world's most sought-after shades, often turning Le Creuset cookware into powerful style statements and cherished collections. As Le Creuset continues to captivate customers with timeless colors and inspire trends with visionary new hues, our bold commitment to color sets us apart — just as it did in 1925.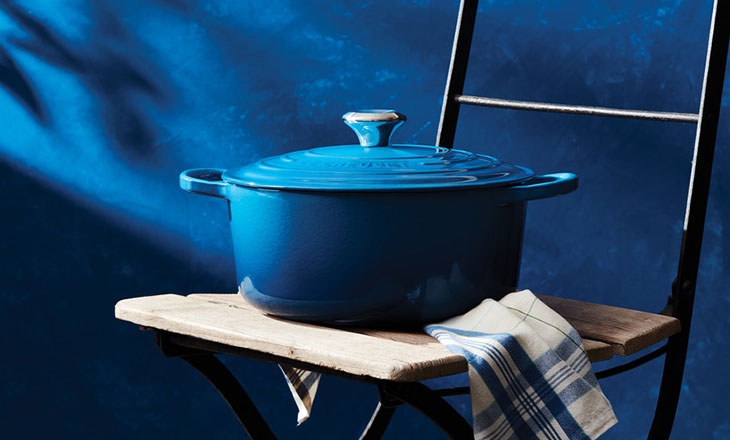 The finest in quality and design
Handcrafted in France with only premium materials, our legendary enameled cast iron provides even heat and moisture distribution for dishes with consistently superior texture and flavor.
For almost a century, Le Creuset cookware's unrivaled performance has fueled food lovers' passions and earned customers' trust. We continually perfect our craftsmanship and optimize our product design for beauty, durability and superior results so our customers can experience the joy of inspiring cookware and better-tasting food. Our full product range includes enameled cast iron, stoneware, stainless steel, nonstick, silicone and much more, and every product is crafted with only the highest quality raw materials.
Le Creuset's emphasis on craftsmanship has held fast since 1925, and we collaborate with artisans who share our commitment to heritage, skill and authenticity. In fact, Le Creuset enameled cast iron is still manufactured in our Fresnoy-le-Grand foundry, where each piece passes through the hands of at least 15 artisans to ensure quality and innovation. Over the years, our design innovations have included optimized heat retention, improved enamel, optimal lid closure angles, better moisture retention and ergonomic handles — thoughtful details that make the process and the final result better.
Our focus on the finest quality and design has prompted culinary leaders such America's Test Kitchen, Cooking Light, Epicurious and hundreds of renowned chefs to use Le Creuset cookware for a performance they can trust every time and recommend it as the best choice.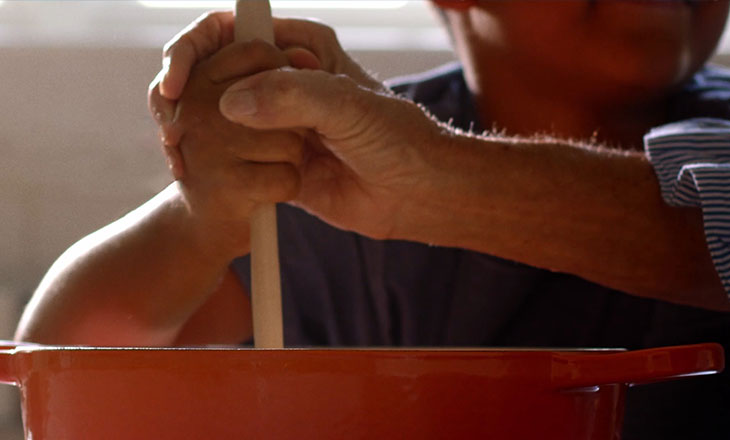 THE FAVORITE FOR GENERATIONS
Beloved for the performance it delivers and the personal statement it makes, Le Creuset has been trusted by home cooks and master chefs for generations — it is the backbone of kitchens around the world, now and for years to come.
Some brands are trusted and some brands are loved. The Le Creuset brand is both. Our cookware is beloved for the empowering performance it delivers, the personal style it expresses and the rich memories it helps make. Le Creuset cookware isn't the kind to gather dust in a cabinet — cooks turn to it regularly, folding it into their everyday rhythm in the kitchen.
For many, Le Creuset cookware never gets put in the cabinet at all; instead, it earns a place of pride on constant display. Our signature colors and authentic designs add distinct style to kitchens and tables, prompting customers to view their Le Creuset cookware as an individual expression of personality, fashion and design. And whether a customer wants to complement colors, contrast them or collect one hue exclusively, Le Creuset has a full spectrum of vibrant colors to satisfy any exploration or expression. Joyful, colorful Le Creuset then becomes something to cherish, collect, pass down, show off and inspire.
Le Creuset cookware's beauty and performance also continue to earn love as a favorite of editors, readers and all who appreciate beautiful design, appearing in the pages of design magazines, in the dining rooms of celebrated restaurants and in the kitchens of culinary experts.
Cleaning & Care for Le Creuset Enameled Cast Iron
Cooking with enameled cast iron:
Enameled cast iron is a remarkable and robust material that performs well with modern requirements for food preparation and cooking. Whether you choose to stir-fry, slow-cook a casserole, sear a steak or bake a cake, there is a shape that is suitable. Cast iron performs well for either slow cooking or high-temperature searing.
Cast iron can be used reliably on any heat source, including induction, and with any oven or grill. It has the ability to retain heat efficiently, which allows for use of lower heat settings in stovetop and oven cooking. On the table, a hot covered dish will keep food hot for second servings. Cast iron should not be used in microwave ovens.
Cast iron can also be used to keep foods cold. A chilled dish becomes an ideal cold food server on a hot summer day. It can also be placed in the freezer for food storage or advanced food preparation.
Before your first use:
Remove all packaging and labels. Wash the pan in hot, soapy water, then rinse and dry thoroughly. Your pan is now ready to be used and does not require any further preparation.
Recommended heat settings:
Le Creuset cast iron cookware can be used on all heat sources including gas, electric solid plate or radiant ring, vitro-ceramic glass, induction, and ovens fired by gas, oil, coal or wood. Cast iron should not be used in microwave ovens. When using any glass-topped stove, always lift the pan when moving it; never slide it, as this may damage the stovetop or the base of the pan.
Medium or low heat will provide the best results for cooking, including frying and searing. Allow the pan to heat gradually and thoroughly for even and efficient cooking results. Once the pan is hot, almost all cooking can be continued on lower settings.
High heat temperatures should only be used for boiling water for vegetables or pasta, or for reducing the consistency of stocks or sauces. High heats should never be used to preheat a pan before lowering the heat for cooking. Cast iron retains heat so efficiently that overheating will cause food to burn or stick.
Always match the pan's base size to the stovetop heat zone to maximize efficiency, and to prevent overheating of the pan sides or damage to the handles.
Gas flames must always be confined to the base area, and must never extend around the sidewalls of the pan. Long handles should be positioned safely where they do not hang over the front of the stove or other heat zones.
Cast iron handles, stainless steel knobs and phenolic knobs will become hot during stovetop and oven use. Always use a dry thick cloth or oven mitts when lifting.
Always place a hot pan on a wooden board, trivet or Le Creuset silicone mat—never on an unprotected surface
Cook with oil or fat:
With the exception of Grills, the enamel surface is not ideal for dry cooking.
Your choice of liquid, oil, fat or butter should completely cover the base before heating begins. Do not leave the pan unattended, and do not allow a pan to boil dry, as this may permanently damage the enamel.
For deep frying, the maximum oil level must not exceed 1/3 full. This depth allows sufficient height above the oil for it to rise once foods are added. An oil frying thermometer should be used for safety, and a lid should be readily available in case of overheating or flaring.
Food storage and marinating:
The vitreous enamel surface is impermeable and therefore ideal for raw or cooked food storage, and for marinating with acidic ingredients such as wine.
Best tools and utensils:
For stirring comfort and surface protection, silicone tools are recommended. Wooden or heat-resistant plastic tools may also be used. Metal tools, spoons or balloon whisks may be used, but require special care – they should not be scraped over the enamel surface. Do not knock these on the rim of the pan.
Hand-held electric or battery-operated beaters should not be used. Their blades will damage the enamel. Knives or utensils with sharp edges should not be used to cut foods inside a pan.
In the oven:
The black phenolic lid knobs on Le Creuset's Signature range of enameled cast iron are heat-resistant to 500°F / 250°C. The black phenolic lid knobs on Le Creuset's Classic range of enameled cast iron are heat-resistant to 390°F / 190°C. Products with integral cast iron handles or stainless steel knobs can be used at any oven temperature. Pans with wooden handles or knobs must not be placed in the oven.

Do not place any cookware on the floors of ovens with cast iron linings. This will increase the cooking temperature inside the oven, resulting in an increased cooking rate with detrimental effects on food. Do not drag cookware across the floor of the liners. For best results always place on a shelf or rack.
Cooking tips for grilling:
Grills may be preheated to reach a hot surface temperature for searing and caramelization. This advice does not apply to any other products.
For correct grilling and searing, it is important that the cooking surface is sufficiently hot before cooking begins. Sear lines from ribbed grills will not be produced if the pan surface is too cool, or if the food is too wet. Place the empty pan on medium heat and allow it to heat for several minutes. Do not add oil to the cold pan—the oil may become too hot and smoke.
Take a few drops of water on your fingers and scatter over the hot surface. If they sizzle and evaporate almost immediately it is hot and ready for use. If the water produces steam and has no sizzle, heat the pan a little longer and repeat the water test again. When the surface is hot enough, lightly oil it with cooking spray or brush it with oil using a Le Creuset silicone basting brush. Vegetable, ground nut or corn oils are recommended. Olive oil may cause excessive smoking.
Once a patina covers the cooking surface very little oil will be necessary. For distinct sear lines, leave the food undisturbed on the surface for several minutes. If the food is moved too quickly the lines will be poor, and steam from the food may be released onto the surface.
Any food for grilling or searing must be quite dry before it is placed on the hot surface. Wet foods will not achieve good sear lines and may result in a steamed appearance and flavor. Use paper towels to pat off excess moisture from foods. Oil can then be brushed over the food if desired. Foods that have been marinated should also have excess moisture removed with paper towels.
Cooking tips for shallow frying and sautéing:
For frying and sautéing, the fat should be hot before adding food. Bring the pan and fat or oil to the correct temperature together.
Oil is hot enough when there is a gentle ripple in its surface. For butter and other fats, bubbling or foaming indicates the correct temperature. If either begins smoking, or if butter begins browning, it is too hot and should be cooled slightly before proceeding. The quickest way to do this is to remove the pan from the heat source for a few moments. For longer shallow frying a mixture of oil and butter gives excellent results.
About black satin enamel:
Black Satin enamel can be found on skillets, grills, frying pans, saute pans, woks, tagines and a number of round and oval casserole dishes. Black Satin enamel has a smooth feel but is not as glossy as other light-colored interior enamel finishes. It has been specially designed for higher surface temperature cooking, which is not the same as simply using a piece on a high heat.
With cast iron, higher surface temperatures can be achieved by allowing any piece to heat thoroughly on a medium setting. This makes the black satin interior ideal for frying, grilling and searing.
Black Satin enamel will keep its good looks and allow a patina to build on its surface with continued use. A patina is the result of the natural oils and fats from foods baking on to the hot surface. The patina should not be cleaned off, as it enhances the cooking performance and the release of foods. It also reduces the need for surface oiling.
With the higher surface temperatures achieved during frying, grilling and searing, sugars and some enzymes will cause caramelization. This not only aids in the retention of moisture and flavor, but also produces the sear lines and crusty exterior on grilled meats
General cleaning and care:
Always cool a hot pan for a few minutes before washing.
Do not plunge a hot pan into cold water. While Le Creuset's enamel is designed to be the most durable on the market, thermal shock may still occur, resulting in cracking or loss of enamel.
If there are food residues, fill the pan with warm water and let soak for 15 to 20 minutes before washing. A brush can be useful for removing small food deposits, or for cleaning between the ribs on grills. Do not use scourers or abrasive cleaners on the cooking surface. Nylon or soft abrasive pads or brushes can be used to remove stubborn residues. To avoid damaging the enamel, do not use metallic pads or harsh abrasive cleaning agents.
All pans with integral cast iron, phenolic handles or stainless steel knobs can be washed in the dishwasher. However, constant dishwashing may lead to some dulling of the enamel finish. This is not harmful and will not impair performance. When using the dishwasher always allow the cycle to finish before opening the door. This will ensure the pans are dried thoroughly.
Pans with metal handles can be washed in the dishwasher, but this greatly reduces the development of a patina; as a result, grills and skillets will require oiling for a longer period. Pans with wooden handles are not dishwasher-safe.
Light stains or metal marks caused by metal tools can be removed with Le Creuset cookware cleaner. An occasional cleaning with this product will also retain the new appearance of your pans. It can be purchased from The Happy Cook.
Never store pans while they are still damp. Store pans in a dry cupboard or airy space away from steam.
Maintain the tightness of all handles and knobs by checking and retightening them regularly.
Le Creuset enameled cast iron is extremely durable but it may be damaged if accidentally dropped or knocked against a hard surface. Please note that this is not covered by Le Creuset Lifetime Warranty.
Frequently Asked Question
What is the advantage of buying Le Creuset products instead of less expensive brands?
Since 1925, Le Creuset has been the market leader outperforming every competitor in design, performance and customer devotion. As the First in colorful cookware, the Finest in quality and design, and the Favorite for generations, we're honored to share in the meals, memories and traditions made by food lovers around the world. Le Creuset continually perfects their craftsmanship and optimizes their product design for beauty, durability and superior results so you can experience the joy of inspiring cookware and better-tasting food.
What is the difference between your materials, and why would I choose one over the other?
Le Creuset's full product range includes enameled cast iron, stoneware, stainless steel, nonstick, silicone and much more. Every product is expertly crafted with only the highest quality raw materials and optimized for beauty, durability and superior results. All materials are versatile and essential parts of a well-stocked kitchen.
I am new to Le Creuset. What is the best piece to purchase to start my collection?
This depends on the type of cooking you usually do. Le Creuset's enameled cast iron Dutch oven is the most popular piece for a reason. It is exceptionally versatile, durable, produces superior results, and comes in many sizes. For searing and sautéing, stainless steel is a popular choice. For everyday ease of use, you might like nonstick cookware. And for baking, stoneware is a good choice.  
How do I know that Le Creuset will not discontinue a color once I start collection cookware in that color?
As the leader in colorful cookware, Le Creuset keeps their most iconic colors always available. But Le Creuset also likes to introduce new trend-setting colors a few times a year as well. Le Creuset's design-forward approach results in some of the most sought-after shades in cookware. Le Creuset does occasionally retire colors, however, they may be found for some time afterward on our website. We also feel that other Le Creuset colors can create an appealing color combination.