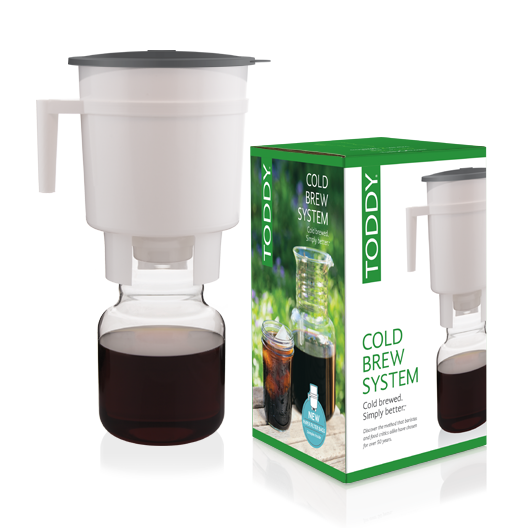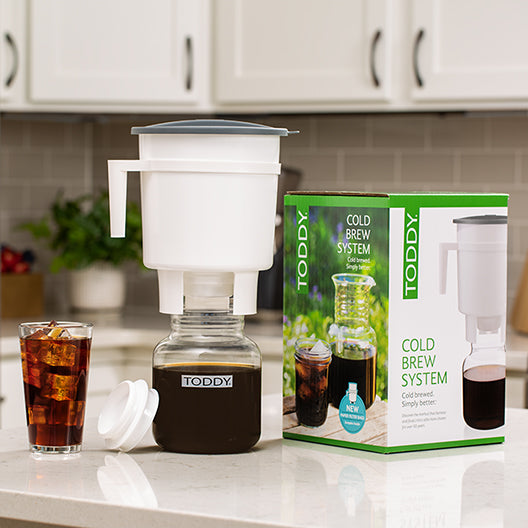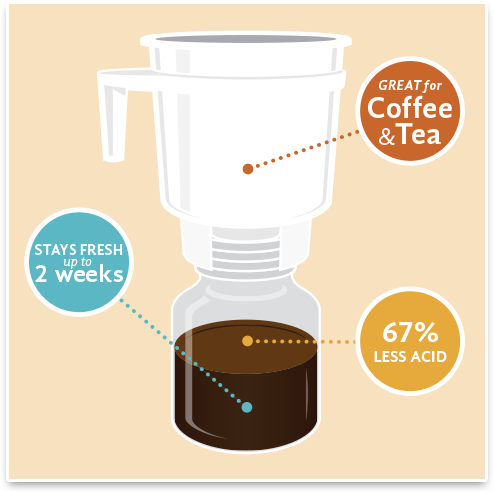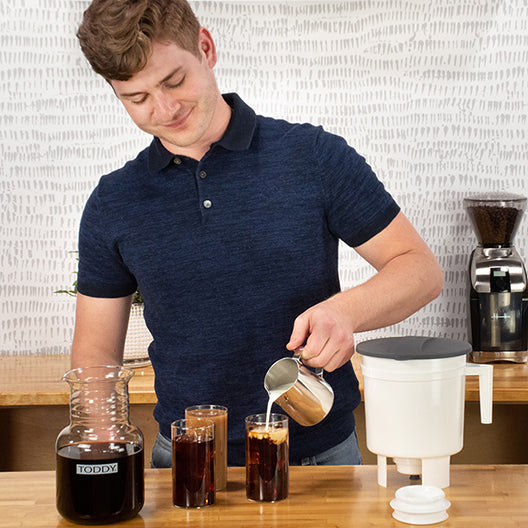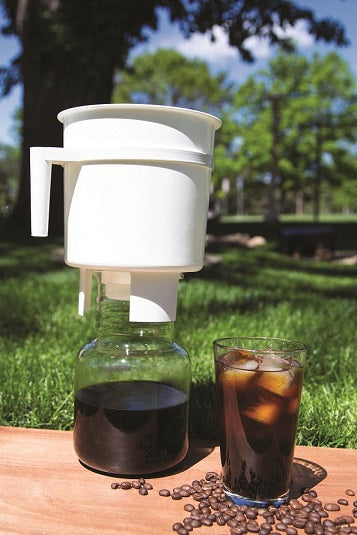 Toddy® Cold Brew System
---
The Toddy® Cold Brew System is our original cold brew pioneer, a nonelectrical coffee maker that produces a smooth, rich liquid concentrate used to make unparalleled cold brew at home. By allowing time to replace heat, Toddy's deceptively simple cold water filtration process extracts the coffee bean's true delicious flavor, leaving behind much of the undesirable acidity.

Concentrate brewed in the Toddy® Cold Brew System is the perfect foundation for delicious iced and blended frozen drinks. Our versatile BPA-free system can also be used to cold brew artisanal tea.

Since 1964, more than 1 million Toddy® Cold Brew Systems have been sold at retail -- all with a money-back guarantee.
Now you can create a 'coffeehouse' coffee - served steaming hot or iced cold, and in the comfort of your home - for much less than expensive signature coffee drinks! 
As important as those fresh roasted beans are to your cup of coffee, it's what you do with them that counts the most. 
In 1964, as a chemical engineering graduate of Cornell, Todd Simpson developed and patented a cold brew system that, using regular coffee beans, creates a superior-tasting cup of steaming HOT coffee. And, with 67% LESS ACID than coffee made by conventional hot brew methods, it's easier on sensitive stomachs. 
The Toddy Cold Brew System extracts the coffee bean's true delicious flavor and eliminates much of the acidity, producing a bold, super-smooth coffee that can be served one cup at a time. The Toddy system is also ideal for making tea - served hot or over ice.
More info on cold brew: 
During the cold-brew process, time replaces heat. Todd Simpson, a chemical engineering graduate of Cornell, and who developed the Toddy® Cold Brew System, discovered that high temperature facilitates the release of undesirable flavor elements.

A roasted coffee bean contains many compounds that are extracted during the brewing process. Some of those compounds, including certain oils and fatty acids, are soluble only at a high temperature. During the cold brew process, coffee beans are never exposed to high temperature (this only occurs after a rich liquid coffee concentrate has been produced).
Deceptively simple, cold water brewing extracts the delicious flavor compounds (and some of the caffeine) from coffee beans, but leaves behind myriad bitter oils and biting fatty acids, including undesirable elements such as ketones, esters and amides.
These are the same bitter acids and fatty oils that surface to the top of your hot cup of coffee, and give hot-brewed coffee that familiar 'bite' (thus the reason that some 8 out of 10 people attempt to soften the acidic taste by adding milk or cream to their coffee).
The cold brew process creates a perfectly balanced and distinctively smooth cup of coffee - served steaming hot or iced cold. You're invited to taste the Toddy® difference: the same taste that has delighted coffee drinkers for over 50 years.
Shipping
Most orders are shipped out in 1-2 business days, but please allow a maximum of 5 business days for your order to be shipped out. Should an item go out of stock, you will be contacted for replacement or refund options. All tracking numbers will be included in the shipping confirmation email you receive at the time of package being shipped out.
Returns

Your items are eligible for return as long as you have a receipt, items are able to be put back in original packaging, and item is in the same condition as when you bought it. Items must be returned within 14 days of original delivery date for a full refund.
If no receipt is able to be provided, in store credit is available. Please note that any items on sale, or marked as final sale are NOT eligible for return.
Returns and exchanges are reviewed on a case by case basis. Please send any questions regarding a return or exchange to info@thecooksnookmcpherson.com
To make a return, you should mail your product to: The Cook's Nook, 219 N Main St, McPherson KS 67460, United States
You will be responsible for paying for your own shipping costs for returning your item. Shipping costs are non-refundable and we are not responsible for items lost in return transit, so you are encouraged to keep track of the tracking number.
---